Zonta International starts our 16 Days of Advocacy – Zonta Says No To Violence Against Women.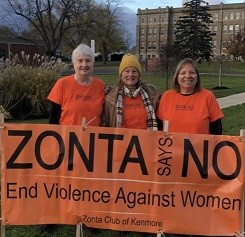 Violence against women and girls is one of the most widespread, persistent and devastating human rights violations in our world today and is a threat to millions of girls and women online and offline. This violence takes many forms, including physical, sexual, or psychological violence as well as economic abuse and exploitation. We are also raising awareness of elder abuse at this time. The 16 Days between November 25, the International Day for the Elimination of Violence Against Women and December 10, Human Rights Day, are known as the 16 Days of Activism against Gender-Based Violence Campaign, a time to galvanize action to end violence against women and girls around the world.
In preparation for the 16 Days of Activism the Zonta Club of Kenmore has their banner on display in front of Mount St. Mary Academy on Delaware Avenue in Tonawanda.  The school leadership provided us with the opportunity to address a student body assembly on the meaning of these 16 Days and what they each can do to educate themselves and others about violence against women.  The Kenmore Zonta Club is also working on a project with the school staff to help students create short videos about healthy relationships.  These videos will be shared with the student body and discussed in their classes.